Hot Sauce Craze Worldwide!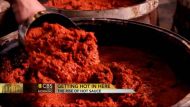 (CBS News) Hot sauce sales have spiked 150 percent in the past 10 years. But what's the draw to this sometimes painful condiment?

Blair Lazar, an entrepreneur on the cutting edge of the industry, said the heat is "a way to suddenly feel different." He explained, "Everything's suddenly a little bit brighter - maybe a lot brighter."
Lazar got into hot sauce production in 1989 as a bartender to force customers out at closing time - he would pour on the hot stuff on chicken wings, calling them "wings of death." These days, he produces hot sauce at his Baltimore factory, a multimillion dollar enterprise, which he recently showed to CBS News special correspondent Jeff Glor.
For more about the hot sauce craze - and to check out Blair's factory and the effects of his spicy sauces.
Sunday 17th of June 2012
---
Chilli Products & Services: