Old Mout Hot Berry Cider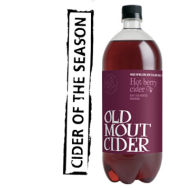 Old Mout Hot Berry Cider is the seasonal get-together of crisp apple cider and luscious summer berry wine, with a touch of fizz. Old Mout say "take some time to mull it over".
Old Mout suggest that you serve this warm alongside your favourite winter roast, or as an accompaniment to a cheesy treat of "just ripe" camembert or a sharp cheddar. For something sweet, try it with a good old fashioned apple crumble or spicy ginger biscuits.
To spice it up: add a few of your favourites, there's lots to choose from... a cinnamon stick or vanilla pod, grated nutmeg or ginger, cloves, a dried bay leaf, the zest of an orange, or peel of a lemon, lime or clementine, apple slices, and even a touch of honey.
Monday 9th of July 2012
---
Chilli Products & Services: