Caballo Chilli matched with Yakima Monster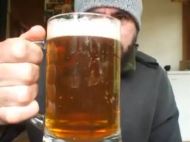 Fire Dragon Chillies' Clint eats a Caballo from Guatemalan origins, grown in the Far North of Aotearoa, New Zealand. The chilli is matched with a Liberty Brewing Co ale, the "Yakima Monster" - a new AWESOME brew just released in NZ/Aotearoa.
The Caballo is from the Pubesecens family of chillies and they are great stuffed or used in salsas or cooking. That Yakima Monster is highly recomended from Fire Dragon Chillies!
Check out www.firedragonchillies.co.nz and www.libertybrewing.co.nz.
Sunday 26th of August 2012
---
Chilli Products & Services: