FiresDragonChillies Tribute to Chilli Pepper Pete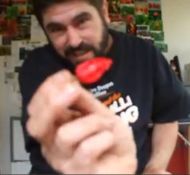 "A little tribute to the CHILLI GODFATHER..... Chilli Pepper Pete, Pete Seymour! Totally gutted to hear the news today and we send our deepest condolances to all your fmaily and friends.

You were the one that gave us most of our seeds and so much chilli info anytime we asked! Pete you are a LEGEND and will be sadly missed by all the Chilli Heads in the world!

That Chilli Beer is so good Joe and if you bottled that up it would be a huge success! Liberty Brewing Co THANK YOU for the awesome support for our Chilli Eating Champs and we look forward to your beer and seeing you compete in the Finals of the NZ Chilli Eating Champs 2012! Kiwi Brewing legend!

Last word for Pete, Cheers for all the wicked BURNTIME bro! Kia Kaha to all his friends and whanau! CHUR to the Chilli Godfather! #chillilegend"
Thursday 30th of August 2012
---
Chilli Products & Services: