FFUK Jalapeno Eating Competition & Man Vs Fire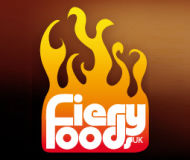 This year's Fiery Foods Festival (FFUK) 2012 in Victoria Gardens, Brighton will attempt to break the World Record... for those brave enough to take part! On Friday 14th September, FFUK will attempt to break the existing record of 16 jalapeno chilli peppers eaten in 1 minute! The current record holder for the most jalapenos eaten in 1 minute is Alfredo Hernandes - an American - who set the 16 Jalapeno record back in 2006 at the La Costeña 'Feel the Heat Challenge' in Chicago. The record has not been beaten since.
But wait, there's more! The Man Vs Fire event will be a buffet of cheeky chilli treats which will be on offer including the hottest pizza in the world courtesy of Paul's Pizza and the hottest burger in the world courtesy of Burger Off, Hove. Eat as much of these hot treats in 10 minutes, alongside special guests Ted 'The fire Breathing Dragon Idiot' from Washington, USA and Tony 'Darth Naga' Ainsworth - reviewer from popular website 'The Chilli Foundry'.
Monday 3rd of September 2012
---
Chilli Products & Services: