Doc Eats World's Hottest Curry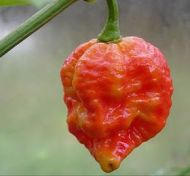 A British doctor has become the very first person to succeed in finishing an Indian dish claiming to be "the World's Hottest Curry"... albeit suffering hallucinations mid-meal!
Ian Rothwell, 55, a consultant radiologist, took over an hour to eat the dish named 'The Widower' - which alledgedly tops six million units on the Scoville Scale. To put that into context, that is hotter than anti-riot tear gas.

The curry consists of 20 Naga Infinity Chillis, one of the hottest chillies on Earth. The dish is actually prepared by chefs who wear goggles and a face mask.

300 people have tried and only one has succeeded in successfully completing the curry at the Bindi restaurant in Grantham, Lincolnshire. Grantham is the home of the Infinity Chilli, bred and grown by Fire Foods proprieter "Woody" Woods.
Read more from the Daily Mail.
Click here to view the video externally
Tuesday 8th of January 2013
---
Chilli Products & Services: