Chilifest 2014 Snook
4th April 2014 to 5th April 2014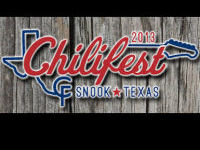 Visit Snook, Texas for the ChiliFest 2014. Enjoy fresh-cooked Chili dishes, the Chili Cookoff and music from a range of entertainers.
Chilifest Incorporated offers assistance to those who are ill, neglected or less fortunate, as well as funding many organisations who aim to solve life-threatening problems that endanger the lives of so many.
Read more about Chilifest 2014 Snook
Be sure to check the event organiser's website for event updates & entry conditions before attending.
---