Parrish Florida Chili Cook Off 2014
Saturday 1st of March 2014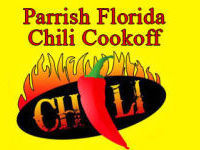 The annual Parrish Florida Chili Cookoff takes place immediately after the Parrish Heritage Day Parade, on the grounds of the Florida Railroad Museum, Parrish.
Bring your biggest chili cooking pot, your best chili recipe and compete for prizes and awards!
All proceeds from the chili "festival" go to The Parrish Foundation, who provides grants to groups who serve the residents of the Parrish community.
Read more about Parrish Florida Chili Cook Off 2014
Be sure to check the event organiser's website for event updates & entry conditions before attending.
---