Mexican Food Festival Wellington
7th June 2013 to 12th June 2013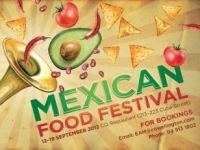 Chillies galore at this colourful cuisine event in Wellington! The Mexican Food Festival opens on 7th June, with food served up every night from 7-12 June as part of the annual Wellington Mexican Food Festival.
The CQ Restaurant on Cuba Street hold the festival annually and is a shock to Kiwi taste buds - with dishes that reflect the colour and flavour of Mexico's culture!
UNESCO has declared Mexican food "a cultural treasure", being so rich and varied. After the arrival of Columbus, new flavours from Europe, Asia and the Caribbean turned up on pre-Hispanic tables full of chocolate, beans, vanilla and chilli. From this mixture was born the delicious fusion that is modern Mexican food.
Experience the "siente magia" (feel magic) cocktail, made from mezcal and mandarin liqueur, chipotle spiced prawns and capirotada - a dessert made with guava, coconut, almonds, cheese and milk.
The festival features Chef Ubish Yaren, flown to New Zealand especially for the event. Yaren is an expert in traditional and contemporary Mexican foods, and a valuable asset to the festival.
The Mexican food festival opens on 7 June at 6:30pm with live music and a complementary margarita for guests.
Reservations are recommended and can be made at meet@cqwellington.com or on 04 931 6853. The CQ Restaurant is located at 223 Cuba Street, Te Aro, Wellington.

Vouchers are presently available for the festival - go to:
http://tinyurl.com/8sljcp8
Then sign up and click on Wellington to find vouchers. The offer is limited, so get in fast! Do check the event details on the GrabOne website before booking.
Read more about Mexican Food Festival Wellington
Be sure to check the event organiser's website for event updates & entry conditions before attending.
---