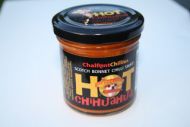 Chalfont Chillies
Chalfont Chillies are a small producer of hot sauce, chutney and pickles, selling into lots of small delis and Farmers Markets weekly.
Chalfont make all our own products and throw around a bit of innovation in smoking to see how it affects the fruit. This experimental approach has won the business Great Taste awards in 2011 and 2013!
Check out the Chalfont Chillies website here.
---