ChilliPepperPete Dies - RIP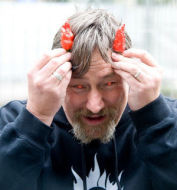 A very sad day is upon the chilli communtiy today; the most sad news that ChilliPepperPete has passed away. Our meetings with Pete were few, but always enjoyable. Here's the announcement in full from the ChilliPepperPete website:
Dear chilli lovers


It is with terrible shock and sadness in our hearts that I must announce the untimely death of Peter Seymour, 'Chillipepperpete', most wonderful husband, father, friend, and chilli legend.

We will be celebrating his life as The Godfather of the UK chilli industry at the Fiery Foods UK Chilli Festival in Brighton on 14-16th September. We would be very happy for you to join us there. In the meantime, please be patient if we are a bit slow sending out your orders for the next week or two.
Article from chillipepperpete.com
Wednesday 29th of August 2012
---
Chilli Products & Services: