Chilli & Chocolate Cornish Pasty?!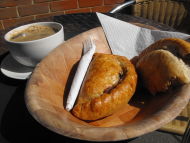 Cornish mining has spread across the globe... In fact CNN recently naming Cornish mining areas as one of the top 27 places to visit on the planet!

And the international links don't stop there... the Cornish locals will be celebrating the international links between Cornwall and Mexico at the first "Cornish Pasty Festival", which is to be held in Redruth from 21st to 23rd September.

Cornwall's links to Mexico date back to migrating Cornish miners, who took their families, skills and traditions, including the Cornish pasty, to mining regions around the world. And in Mexico in 1825, they introduced football to the Mexican locals!

The pasty festival will be supported by the Cornish Mining World Heritage Site. Pasty producers and Cornish produce suppliers will turn the town centre into a packed street market.

Mexican-inspired pasty fillings will include chicken fajita, vegetarian refried beans and cheese and (our favourite) chilli beef and chocolate!
Wednesday 19th of September 2012
---
Chilli Products & Services: