Growing Chillies FASTER - Mini Greenhouse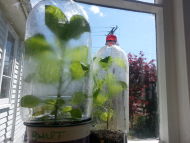 A tip for faster growing chillies indoors, in colder climates and saving a plant on the verge of dying: Cut the bottom out of a clean, 3 litre, square-ish fruit juice container and leave a little flat of the base. Leave a point - like an arrow - on each side, bent to point downwards.
Mini Chilli Plant Greenhouse
Place the container over your bhut, naga, habanero or T-scorp to make an awesome mini greenhouse, maintaining the humidity that the superhots need to grow fast and produce fruit! The water drains back down the points and back into the pot, reducing the need for watering. The points can also help secure the bottle.
Chilli Growing Results
Our results with this technique have been stunningly better with the same plant types from a same size seedling with / without the bottle cover! Plant growth rates are improved and flowers appear much sooner and more frequently.
Chilli Caution!
Just watch out for: knocking the bottle over, scorching in very hot, sunny weather if leaves touch the bottle, overheating (leave the lid a little loose or make a small vent) and for leaf oddities that appear as lumpy-bumpy greenery, particularly in the habaneros :)
Friday 4th of January 2013
---
Chilli Products & Services: