Chilli Chocolate Vindaloo Easter Egg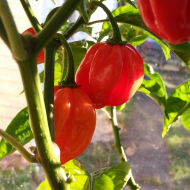 An Indian restaurant in Surrey has created an Easter egg using three of the hottest varieties of chilli pepper; a ghost chilli, a scotch bonnet and a habanero. The team said it was "up to 10 times hotter than a vindaloo".
The restaurant that made the uber-hot egg said that it is so hot it equals 400 bottles of Tabasco sauce, and diners must wear protective gloves if they wish to risk their taste-buds; in fact, those wanting to try the egg had to be aged over 18 and sign a disclaimer!
The Easter eggs were an estimated 1 million on the Scoville scale of "hotness", based on the values of the three chillies used. A typical vindaloo scores between 100,000 and 200,000 on the scale.
More from the BBC's news website.
Friday 5th of April 2013
---
Chilli Products & Services: