World's Hottest Chilli is California Reaper at 2.2 Scoville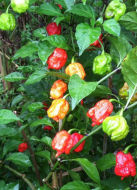 The Trinidad Moruga Scorpion has lost it's position at the top as the World's Hottest Chilli Pepper - it's now the Carolina Reaper grown by Ed Currie of PuckerButt Pepper Co. in South Carolina. The Guinness Bookof Records have confirmed this last month.
The pepper generally rates an average of 1,569,300 SHU (Scoville Heat Units), as tested by Winthrop University in South Carolina throughout 2012. But the latest batch of peppers tested, code named HP22B - "Higher Power, Pot No. 22, Plant B" - had the hottest individual Reaper at a whopping, record-smashing 2.2 million Scoville heat units!
Check out the full California Reaper Story.
Sunday 29th of December 2013
---
Chilli Products & Services: