Carolina Reaper Seeds World's Hottest Chilli!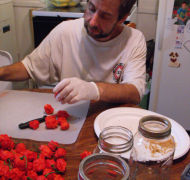 Now you can buy Carolina Reaper seeds from the UK-based Chilli Pepper Company and grow the World's Hottest Chilli from Smokin' Ed's World-Record breaking seeds! The New Guinness World Record Holder For Hottest Chilli In The World rates at a staggering average of 1,569,300 Scoville Heat Units (SHU), with the hottest fruits in the test reaching a massive 2.2 million Scoville!
Sole Chilli Seed Distributor

The Chilli Pepper Company have been appointed the Sole UK Distributor of Smokin' Ed's Carolina Reaper Chilli Seeds. These Seeds were grown and harvested by the man himself. The Chilli Pepper Company are working with Ed to help improve the pure-strain stock and make sure your seeds live up to your expectations, producing "the real Carolina Reaper" fruit.
The Carolina Reaper was bred by Ed Currie of PuckerButt Pepper Company USA. These seeds are direct from Ed's chilli-farm; buy the genuine stuff!
Visit The Chilli Pepper Company website.
Monday 13th of January 2014
---
Chilli Products & Services: