Chili Community Mourns Death of Auto Legend Carroll Shelby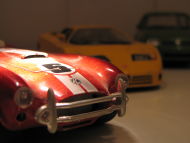 The late Carroll Shelby was not just the inventor of some of the coolest sports cars ever (AC Cobra, Dogde Viper) .. he also invested the World Chili Cookoff!
The chili community is planning a memorial to honour the man! Ed Blair, President of the Chili Appreciation Society International, will honour him at the Terlingua International Chili Championship.
Shelby's image will be featured on a memorial board, along with other chili legends who died in the past year. The 89-year-old passed away on Friday. It is unclear if chili consumption played a role in his death.
Check out one of his recipes here: http://www.food.com/recipe/carroll-shelbys-chili-185564
Saturday 12th of May 2012
---
Chilli Products & Services: