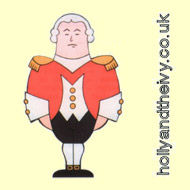 Holly & the Ivy Preserves
Holly & the Ivy is a small family business set up in 2004 to produce small volumes of speciallised chutneys, fruit curds, fruit vinegars, mustards and preserves that cannot reaily be purchased from a supermarket. They take great care in sourcing their ingredients (locally wherever possible) and are mostly purchased from within the farmers market group to which they have been accredited.
Fresh locally grown vegitables and succulent soft fruits go into all their preserves and chutneys where possible, which offers the taste of the countryside in a jar for all city dwellers. a delicate match of spices, herbs and wine vinegars make their preserves stand out from the crowd.
Visit the Holly & the Ivy website
---