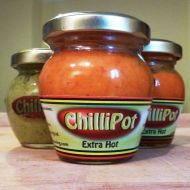 Jes Catering Ltd ChilliPots
Jessen Vydelingum, originally from Mauritius, started his chilli business after receiving a very positive reception for jars of his family's chilli sauce brought back to the UK. His friends and housemates at the time demanded more and more, so eventually Jessen learned his mother's secret recipe to create the sauce himself.
Initially, batches were made for the growing circle of friends, but soon Jessen realised that there was commercial potential. Bulk orders from the local pub turned into a successful business. Eventually, Jes Catering Ltd was born.
Read more about Jes Catering Ltd here in the Mauritius newspaper.
---