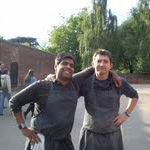 Mauritian Street Food
Mauritian Street Food is a company in its infancy dreamed up over a glass of red and a Roti Chaud by two food lovers; Jason and Jacque. They grew up in a UK Mauritian household and South Africa respectively.
The two dishes that the guys currently serve on their stall are crispy delicious Gateaux Piment (chilli cakes). They claim that these are "not too hot", with a little fiery kick in the mouth and enough to get the appetite ready for a Roti Chaud. The Roti is essentially a Mauritian Wrap. With Grois Pois (butter bean curry) & Rougialle (tomato-based sauce), the hot roti wrap is an edible plate and the traditional way this cuisine would be eaten. These traditional Mauritian Roti's are extremely popular on the streets of Mauritius, especially for people on the go!
They also sell a hot, Mauritian chilli paste, which is going down a storm with their clients. They are also currently in the process of developing a product line. So, please keep an eye out for our constantly expanding product range, which already includes Garlic & Ginger Paste (perfect for curries, stir fries and marinades) and Pineapple & Ginger Jam.
Visit the Mauritian Street Food website
---