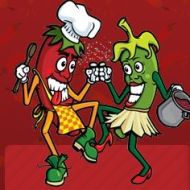 Chilli Bugs Hot Sauces
Chilli Bugs Hot Sauces stock a range of over 250 chilli sauces, ranging from mild to the hottest in the world. They also sell chilli chocolate, chilli peanut butter, chilli nuts and snacks.
New for 2011, they have introduced a a new range of 10 chilli sauces that have never before been seen in the UK. Chilli Bugs are the exclusive importer for these products.
To find out more about Chilli Bugs, check out their website here.
---