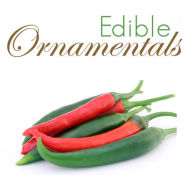 Edible Ornimentals, Bedfordshire
Edible Ornamentals are a commercial chilli grower based at Cherwood Nursery in the hamlet of Chawston on the Beds/Cambs border.
2011 marks Edible Ornamentals' 10th season of trading and our nursery and farm shop is open to the public. They grow more than 50 varieties of chillies as well as other vegetables and we boast the only 'Pick Your Own' chilli polytunnel in the country.
With a production kitchen on site, they produce a range of gourmet sauces, salsa's, chutney's, as well as dried and smoked chilli products. The three acre nursery has three greenhouses and six polytunnels containing over 4000 plants for picking.
With thousands of chilli plants sold direct to the public, both on site and at the nursery, as well as at garden shows and food and wine shows across the country, they are a horticultural force to be reckoned with.
Many of the 'known' UK chilli companies are supplied by Edible Ornamentals, but their products can also be found at distinguished retailers such as Waitrose, Fortnum and Mason, and Harrod!
View the Edible Ornamentals website
---