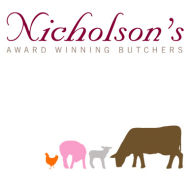 Nicholson's Butchers, Nelson
Ryan & Faye Moffat strive to produce excellent quality goods for the locals of Lancashire and online via their web-shop. Their mission statement says it all: "We aim to provide meat lovers of all ages with fresh, high-quality produce that is reasonably priced, expertly prepared and served with care".
Nicholson's Butchers is a family run shop. Their focus is on providing high-quality, local produce and excellent customer service, striving to meet the demands of every customer. Both traditional cuts and with modern products are available from the Nelson-based store.
Importantly, they feel that animals should live happy lives. All of their produce is sourced from farms that treat their stock with care, ensuring that welfare standards are met at all times.
But why are they on Chilli-Festival, you may ask! Well, they are soon to stock a fantastic range of locally produced hot sauces, chilli chutneys and spicy marinades & spreads... Kiwifruit jalapeno sauce, passionfruit, pineapple & chilli sauce and much much more. Watch this space and visit their website!
Visit Nicholson's Butchers' website for hot sauces & chutneys
---