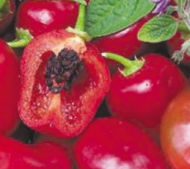 Niche Seeds
Mike, Niche Seeds owner, worked for Arthur Yates & Company Limited (now Yates NZ LTD) from 1966 - 1996 in almost every aspect of the business; his wife Vivienne also worked for Yates from 1980 - 1998. The company was at that time the market leader in the retail garden industry in New Zealand.
On departure from Yates, they pursued developing their own packet seed range, more complementary rather than competitive to Yates.

They released the Niche Brand in 2002, with their seed sourced from what they believe are the absolute best, most reliable seed houses Worldwide.
Visit the Niche Seeds website to buy seeds online.
---