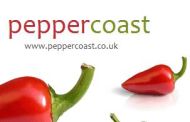 Pepper Coast
Pepper Coast specialise in a variety of African and Caribbean cuisine, prepared using a rich and unique blend of African seasoning. Our aim is to promote an awareness and appreciation of African Cuisine on the south coast of the UK.
All their food is freshly prepared to a high standard. Their authentic, spicy fried rice is extremely popular especially when served with their spicy sauce and chicken or vegetable brochette (kebab) BBQ.
Pepper Coast provide catering for events and functions such as Weddings, Carnivals and Parties.
Find out more at www.peppercoast.co.uk.
---