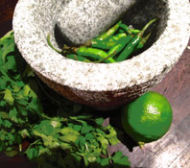 DECCAN TIFFIN
DECCAN TIFFIN real Indian cuisine promise to tingle your tastebuds with real food from India, offering a range of regional chilli based curries, spreads and dips from Maharashtra, Delhi and Hyderabad.
DECCAN TIFFIN's specialities include:
Green Chilli, Mint and Corriander dip/spread - This hot dip is tempered with cumin. Excellent with meats and breads. This dip has its origins in North India.
Thhecha, or literally chilli smash - Made with hot green chillies soaked in rock salt and lime. Thhecha is popular in the Western Indian state of Maharashtra. Fantastic to spice up stews.
Green lime pickle with red chilli – not at all like the pickles you would normally buy, this pickle combines the tanginess of lime with the heat of hot Indian red chilli, fenugreek and mustard
Currently supplying Brighton and Hove. Call 07824558105 or email priya.deshingkar@gmail.com to order.
Visit the DECCAN TIFFIN website.
---