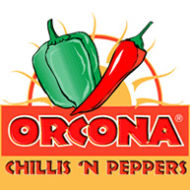 Orcona Chillis 'n Peppers
Orcona Chillis 'n Peppers create a range of hot sauce, chilli relish, pickles and spicy pastes made from their OWN grown Chillis and Peppers.
Located in the fertile Hawkes Bay region on the eastern side of the North Island of New Zealand, Orcona is roughly equi-distant between the cities of Napier and Hastings, in "the food bowl of New Zealand".
Orcona offer range of Chillis and Chilli based products unequaled in New Zealand. The development of these specialty products has seen Orcona to be sought out by Chilli heads in New Zealand and beyond.

Orcona Chilli's 'N Peppers are the only New Zealand producers of Smoked Paprika Flakes, plus they offer many hot sauces and relishes, as well as providing fresh and dried chilli fruit.
Visit the Orcona Chillis 'n Peppers website.
---