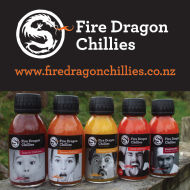 Fire Dragon Chillies, NZ
Are you looking for a hot sauce with Extreme Heat and intense flavour? Fire Dragon Chillies in Hokianga Harbour, NZ offer gourmet chilli products, grown and made in New Zealand. No preservatives, colours or nasty stuff. Made from all natural ingredients.
If you like your food HOT, you've come to the right place; all of Fire Dragon Chillies' sauces are packed with real chillies and are guaranteed to wake up those taste buds.
Fire Dragon Chillies was set a few years ago, but owner Clint has been making hot sauces since he lived in Canada in 2004. Building upon a keen hobby, Clint decided to develop his interest into a commercial enterprise back in New Zealand.

All the chillies that go into Fire Dragon Chilli sauces are grown with organic principles and are sourced primarily in the Far North. Most significantly, all ingredients are grown in NZ, supporting the local economy and keeping down those carbon miles!

Fire Dragon Chillies specialise in the HOTTEST chillies you can get; the Bhut Jolokia, Naga Morich, plus other Jolokia strains which they have grown for the last 4 years. Five chilli sauces are available at present; Sweet As, Gourmet Hot, Xtra Hot, Deadly and the hottest of all, the Fire Dragons Fury with a blistering 80% Pure Bhut/Nagas content! Iy was decided that an R20+ warning label on the bottle was required - always read the label - that one as it is definitely not for kids or the amateur!

Fire Dragon Chillies are currently in the process of arranging their first annual Monteiths Wild and Fiery Festival, to be held in Hokianga, Aotearoa (NZ).
Visit the Fire Dragon Chillies NZ website
---